Financial Guidance & Retirement Goals
SnoCope Credit Union announces that Jeffrey Downer of Foresters Financial; a New York based subsidiary of Foresters; will now be available to SnoCope members to assist them with investment and life insurance needs including: retirement accounts, educational savings, 401k rollovers, life insurance planning and more.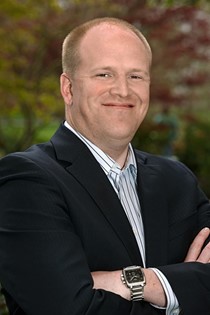 Who Is Jeffrey Downer?
Jeffrey Downer is a Senior Financial Services Representative with Foresters Financial (formerly First Investors1).



900 SW 16th Street
Suite 110
Renton WA, 98057
Phone: 206.204.3066, ext. 200
Phone: 800.966.9356, ext. 200
Jeffrey.Downer@foresters.com

The Strength of Foresters and Foresters Financial
Foresters is an international financial services provider with more than 3 million clients and members in Canada, the United States and the United Kingdom. They provide life insurance, savings, retirement and investment solutions that help families achieve their financial goals and make a lasting difference in their lives and communities. Foresters has assets of nearly $12 billion, total funds under management of $28 billion and a surplus of $1.9 billion (all figures in Canadian dollars as of December 31, 2014) and maintains an "A" (Excellent) rating by A.M. Best2. For more information, visit foresters.com.

Foresters Financial™ and Foresters™ are trade names and trademarks of The Independent Order of Foresters (a fraternal benefit society, 789 Don Mills Road, Toronto, Canada M3C 1T9) and its subsidiaries, including Foresters Financial Services, Inc..
---
1September 21, 2015 - First Investors rebrands to Foresters Financial.

2An "A" (Excellent) rating is assigned to companies that have a strong ability to meet their ongoing obligations to policyholders and have, on balance, excellent balance sheet strength, operating performance and business profile when compared to the standards established by A.M. Best Company. A.M. Best assigns ratings from A++ to F, A++ and A+ being superior ratings and A and A- being excellent ratings. In assigning Foresters rating on July 1, 2015, A.M. Best stated that the rating outlook is "stable", which means it is unlikely to change in the near future. See ambest.com for our latest insurance rating.
Foresters mission and values in action.
Foresters invests millions of dollars in community partnerships that enrich the lives of members, their families and the communities where they live.

Since 2006, Foresters has invested over $10 million with KaBOOM! the national nonprofit dedicated to building community-focused playgrounds. By the end of 2015, Foresters Financial and KaBOOM! will have built over 120 new playgrounds across the U.S. and Canada. Over a 15 year lifespan, these playgrounds will provide more than 4 million children and their families an opportunity to spend quality time together.

Foresters, like Ronald McDonald House Charities® (RMHC) believes that families are stronger and healthier when they are together. That's why for over the past decade, Foresters members have supported 25,000 RMHC families by organizing over 575 activities at local Ronald McDonald Houses® across North America. Beyond financial contributions, these activities provide families with a sense of fun and comfort during an extremely stressful time.

In 2015, Foresters Financial and the American Red Cross joined together to launch a new and exciting emergency preparedness care package activity, Foresters Prepared with Care, where members learn how to become prepared for an emergency or disaster through Red Cross training, assemble emergency preparedness kits and then help spread the word about preparedness in their local communities. This partnership helps Foresters support members, their families and communities in planning ahead for the unexpended, while making a difference along the way.
Interested in discussing your financial goals?
Click here to download and print the SnoCope Credit Union Referral Form
to bring into the credit union, or fax to 425-339-9482;
or call 425-405-9973 to speak to a SnoCope Representative.
---
SnoCope Credit Union Disclosures
Foresters Financial Investments and Insurance are not NCUSIF (National Credit Union Share Insurance Fund) insured and are not obligations of SnoCope Credit Union.

Foresters Financial Investment Risk Disclosure
Foresters Financial is a broker-dealer and provides broker-dealer services. Securities products offered through Foresters Financial (formerly First Investors) member FINRA/SIPC. The investment products are not insured by the Federal Deposit Insurance Corporation (FDIC), not obligations of, and not guaranteed by SnoCope Credit Union or any SnoCope affiliated entity and are subject to investment risks, including the possible loss of the principal invested.

Foresters Financial Insurance Products Disclosure
Investment Insurance Products (i.e., annuities and whole life). Insurance products are offered through various insurance companies in association with SnoCope Credit Union. The insurance products are not federally insured, not obligations of or guaranteed by SnoCope Credit Union or any affiliated entity. They involve investment risk, including potential loss of principal.

Foresters Financial and Foresters Disclosures
Foresters Financial and Foresters are trade names and trademarks of The Independent Order of Foresters (a fraternal benefit society, 789 Don Mills Road, Toronto, Canada M3C 1T9) and its subsidiaries, including Foresters Financial Services, Inc. Foresters Financial Services, Inc. is a subsidiary of Foresters Financial Holding Company, Inc. All securities products are offered through Foresters Financial Services, Inc.
Go to main navigation