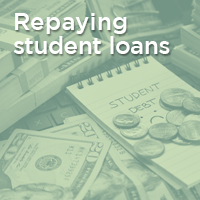 Repaying Student Loans: June 13 at 10:30AM or June 23 at 5:30PM
Student loans can put a heavy burden on monthly finances, sometimes rivaling the cost of a mortgage. However, there are many choices for repaying federal student loans. This session will teach attendees about the choices available and how they can be used to create a repayment strategy.
To self-register: click here.
Raising a Money Smart Kid: August 9at 10:30AM or August 18 at 5:30PM
Earning money, spending and saving are important lessons children learn very early on in life. This session will help guide parents on effective ways to educate children about financial responsibility that can last a lifetime.
To self-register: click here.
Personal Finance for College Students: September 13 at 10:30AM or September 22 at 5:30PM
College education is a prime time for young adults to learn about finances and plan for their future. Attendees will learn about credit (how to use it wisely), tools to develop a positive credit history and score, create and manage their own budget, ways to track spending, and options for student loan repayment.
To self-register: click here.
Recorded seminars that can be viewed:
How to Apply for Federal Student Aid: Click here Expires March 23, 2023
Teens and Money: Click here Expires April 20, 2022
Checking Account Basics: Click here Expires May 20, 2023
Go to main navigation