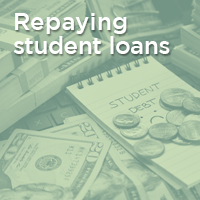 Repaying Student Loans: June 13 at 10:30AM or June 23 at 5:30PM
Student loans can put a heavy burden on monthly finances, sometimes rivaling the cost of a mortgage. However, there are many choices for repaying federal student loans. This session will teach attendees about the choices available and how they can be used to create a repayment strategy.
To self-register: click here.
Personal Finance for College Students: September 13 at 10:30AM or September 22 at 5:30PM
College education is a prime time for young adults to learn about finances and plan for their future. Attendees will learn about credit (how to use it wisely), tools to develop a positive credit history and score, create and manage their own budget, ways to track spending, and options for student loan repayment.
To self-register: click here.
Recorded seminars that can be viewed:
How to Apply for Federal Student Aid: Click here Expires March 23, 2023
Teens and Money: Click here Expires April 20, 2022
Checking Account Basics: Click here Expires May 20, 2023
Go to main navigation