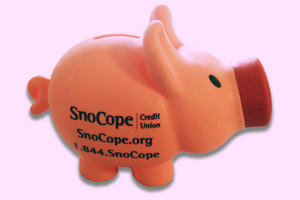 Have You Thought of These Savings Strategies?
So much about saving is unique to each person—how much to save, how long to save, what to use the money for—so how you grow your savings account should be just as personal. Here are just a few ideas to get your creative gears turning on how to save money in small, big, unusual, and eco-friendly ways.
Five Dollar Plan(s)
There are two versions of this plan. You could save every five-dollar bill you receive (as change, from a friend as payment for something, etc.). If you deal regularly with cash, you might be surprised how quickly those bills add up; however, if you primarily use debit or credit cards or online transactions, you may not come across a fiver very often. In that case, switch to a cash-based weekly budget or try the other Five Dollar Plan: save $5 a day for a year. With this plan you'll rack up $1,825. If that's too ambitious, try $5 a week and save $260 in a year.
52-Week Savings Challenge
This is a graduated savings plan where the amounts increase week by week. The goal is to save $1 on the first week, $2 on the second, and so on until week 52. By the end, you'll have socked away $1,378. Not bad for a slow-and-steady approach.
Replace and Save
This is truly a one-of-a-kind savings challenge based on your current spending habits. Pick one expense for the week, or a larger monthly expense, and replace it with a free or almost-free alternative—or pass on it altogether! Take the amount of money you would have spent on the item or activity—say four carwashes in a month—and put it into savings.
Personal Care Savings
You might be surprised to learn you can receive personal care services such as facials, haircut and color services, nail services, and massages from students for a fraction of the price of established professionals. If you live in a university town, you may even be able to receive dental work at the university clinic from graduate-level dental students. Coupon websites like Groupon, Yipit, and Living Social often offer discount packages on personal care services, too.
No Spend Month…Or More
It's exactly what it sounds like: you cut all spending outside of the basics (food, mortgage/rent, insurance, loan payments, gas, utilities) for a month or longer. Or shorter. You can also try not spending money on specific budget items for an amount of time, like new clothing, house furnishings, electronics, app downloads, etc. Either way, you'll be forced to appreciate what you have, really evaluate your spending habits, and save some cash, to boot.
Divide Your Paycheck
Ask your employer to split your paycheck between your checking and saving accounts. This automated saving will be a boost to your self-control and help you avoid the temptation of breaking your budget and spending money that should be saved.
30-Day Rule
You've probably heard the tip to wait 24 or 48 hours before making a purchase to ensure you really need or want the item. To see more significant savings, be a little more ruthless and wait for 30 days. You'd be amazed how many oh-my-gosh-I-need-to-have-this-now purchases seem less tempting and less necessary after waiting for 30 days. Apply the rule to impulse food purchases based on momentary cravings and you'll reach your savings goal even faster.
For the majority of these challenges, the idea is to try out a savings strategy for a limited amount of time. You're less likely to cheat or break the short-term habit if you know it's temporary. And in the end, if you find success with one plan, you can keep using it. Or, you can move on and try something else. Either way, you'll be saving more and practicing that key skill of self-control.
Want to read other articles we've published?
Go to main navigation