SnoCope Debit Card Processor Conversion August 19, 2019
On August 19, 2019 SnoCope Credit Union is converting to a new debit card processor in order to offer future product enhancements, increased security, improved fraud protection and a new, after-hours card services support line.
This conversion should not impact transaction processing. However, some members may experience brief interruptions to debit card service during the day on August 19, 2019. We ask for your patience and encourage you to be prepared to use other forms of payment such as cash, travel cards, gift cards and credit cards.
Your debit card and PIN number will remain the same. Your present debit card will continue to be active and valid.
Our all-new after-hours Debit Card Support Line is 1-866-664-9364! This line will allow you to call after hours and get recent balances, report lost/stolen cards, dispute a transaction, and change your PIN. Additionally, you will be able to talk to a customer service representative to report suspicious or fraudulent activity, set travel alerts and request replacement cards. Click here for Frequently Asked Questions and more specific info.
SnoCope staff have been working on this conversion behind the scenes for several months. We anticipate a smooth and transparent transition for our members.
All previously established automatic transfers / payment transactions associated with your debit card should not be impacted. As good practice however, we do ask you to review already established transfers or payments and examine your August ending statements closely for accuracy.
Your debit card renewal date will remain the same. At that time, you will receive this new, attractive, blue Visa Debit Card.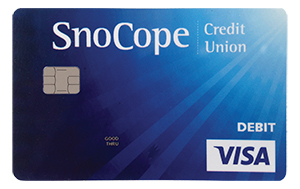 Coming Soon!
Here's what's truly exciting about your new SnoCope Visa Debit Card. Our new Visa Debit Card Program will soon include:
The MobiMoney App - a new way for members to monitor and manage your debit card.
Ampre Merchant Rewards - receive automatic cash back at thousands of merchant locations nationwide.
Instant Issue – new debit cards printed in the branch while you wait.
Watch our Website, Online Banking and Newsletter for launch dates and more information.
Please be sure to review the FAQs for helpful information about the debit card conversion. If you have any further questions now or after August 19th, contact us at 425-405-9973 or 1-844-SnoCope. We trust you will find these enhanced debit card features valuable and we look forward to serving you once again.

Go to main navigation