Mobile Deposit Changes Effective July 1, 2018
Member Notification: Effective July 1, 2018, deposits made using SnoCope's Mobile App or CO-OP's Sprig's Mobile App will require you write the words "Mobile Deposit" as part of the endorsement on the back of the check. This is now required as part of a new regulatory provision (Reg CC) designed to protect against checks being deposited more than once.
Checks deposited without the proper endorsement will not be accepted. Some checks have a checkbox in the endorsement section that can be checked to indicate a deposit is a mobile deposit. Unfortunately, checking that box does not satisfy the new requirement.
SnoCope Mobile App - On or after July 1, you will be required to endorse checks deposited by SnoCope's Mobile App with the words "For Mobile Deposit Only SnoCope Credit Union."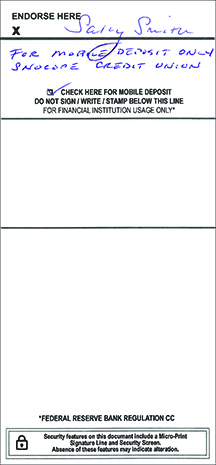 CO-OP Sprig Mobile App - The first time you sign on to Sprig on or after July 1, you will be asked to accept an updated Terms of Use that includes this requirement. You'll also be reminded each time you make a mobile deposit: As part of the deposit process, you'll see a screen that reads, "Please endorse the back of your check and write: Sprig Mobile Deposit."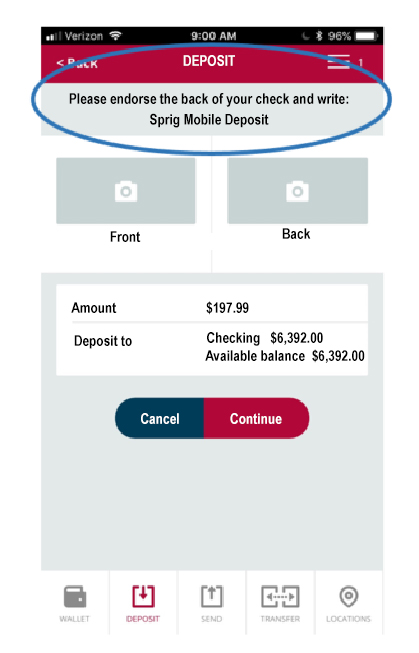 CO-OP Sprig Mobile App - On or after July 1, you will be required to endorse checks deposited by CO-OP Sprig's Mobile App with the words "Sprig Mobile Deposit."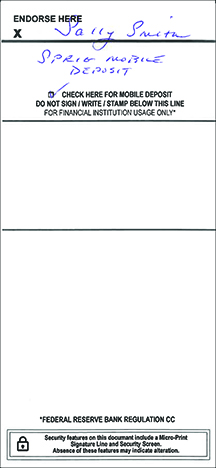 Go to main navigation